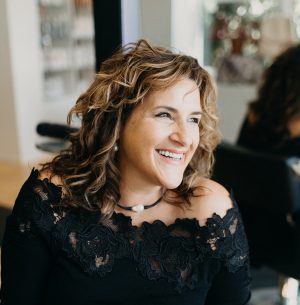 Founder, Master Colorist/Master Stylist
Lifestyle, Health & Leadership Consultant
The Urban Salon Team was created in 2000 after Stacey spent seven years in the beauty industry and ten previous years in banking and insurance. Her vision was to develop a prestigious team of professionals who share her passion for advanced education and excellent customer care. Her 20+ years' experience includes training and traveling nationally and internationally with Goldwell Hair Color from Toronto to Cancun, Las Vegas to Paris. She has trained with numerous accredited educators such as John Simpson, Goldwell Lead Artistic Director, Dimitrios Tsioumas, Goldwell International Artistic Director and 2X NAHA Winner, Tammy Savic and Robin Sween, Goldwell Artistic and Inspiration Team, Oscar Bond, 2010 NAHA winner and Nick Arrojo, the stylist from the famous "What not to wear" TV show to name a few. In 2010 she entered Goldwell's Colorzoom and was awarded Third Place in New England by ESP out of 700 global entries. In 2008 she was nominated by Essential Salon Products as Global Entrepreneur of the Year, a prestigious nomination accrediting the entrepreneurial skills for salon growth and vision. While the image of beauty is where Stacey began, her journey took her to value beauty beyond the image in the mirror for herself and the clients in her company.  "Beauty can not be seen if it is not felt"
Read more about how her beauty bar journey unfolded here.
ACHIEVEMENTS/CERTIFICATIONS
Goldwell: Color I, II, III,IV

Color Fix
Constructing & Destructing Color,
Correct It Creatively,
Pocket Techniques.

Goldwell's Colorzoom – Cancun, Mexico, Las Vegas, Toronto, Paris, Miami Oscar Bond –
Elan McDowell:3 Day Cutting Bootcamp, Master the Cut
KMS Cutting IQ Method & Upstyling foundations, Womens Foundations
Deva Curl Cutting Lab Certification
Nick Arrojo

Thrive Learning Collective –

NLP Practitioner, Life Coach Certification, Communication & Life Mastery Certification, Hypnotherapy Certification
Master Training

Institute for Integrative Nutrition – Health Coach Certification
Strategies Salon & Spa Business Management 
Salon Cadence Business Development Coaching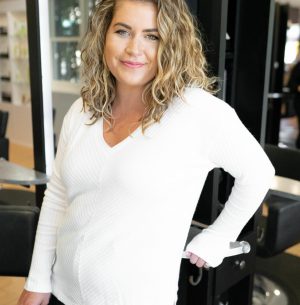 Katrina began her career at The Urban Salon Team in 2010 after attending  Curry College in MA and Blaine Beauty School in Boston where she was voted "most likely to succeed". Katrina's true passion was to be a professional stylist and it was a natural choice to join her mother, Stacey, at the Urban Salon. She completed the required Stylist Skill Certification and Assistant Training Program and in 2012 she mastered the Goldwell Color Certification Program in Massachusetts though Essential Salon Products. Her commitment to excellence in the area of training and customer care has earned her the position of Director of Operations & Training where she oversees the day to day operations of the salon and because she shares the vision of The Urban Salon she continues to education farther  with  business management. In her spare time Katrina is a dedicated mom to her son Harry and spends time with her husband, Justin and two dogs, Jack & Tom. Katie enjoys decorating, DIY projects, fine food and spending time with friends and family.
GOLDWELL


Up styling Foundations, Women's Foundations
Cutting IQ Method
Goldwell Color I,II,III,VI
Colorzoom Miami
Kerasilk Keratin Certification
Thermafuse Amino Acid Certification

Deva Curl Cutting Curl Lab Certification
Nick Arrojo